This house has been so loved! I am amazed at the condition of the original hand painted doors, the hand-painted transoms, the old hinges, the woodwork. There is more than 130 years of love embedded in this home. Built in 1884 by Oliver Smith and his wife Melanie, it is a classic Italianate brick farm house and a testament to this successful Indiana farmer of the time. The Smiths had seven children that grew up in this home. In the 1930s, Bill Ottinger was born in the house, later buying it from his parents. Along with his wife Shirley, they raised their seven children here also.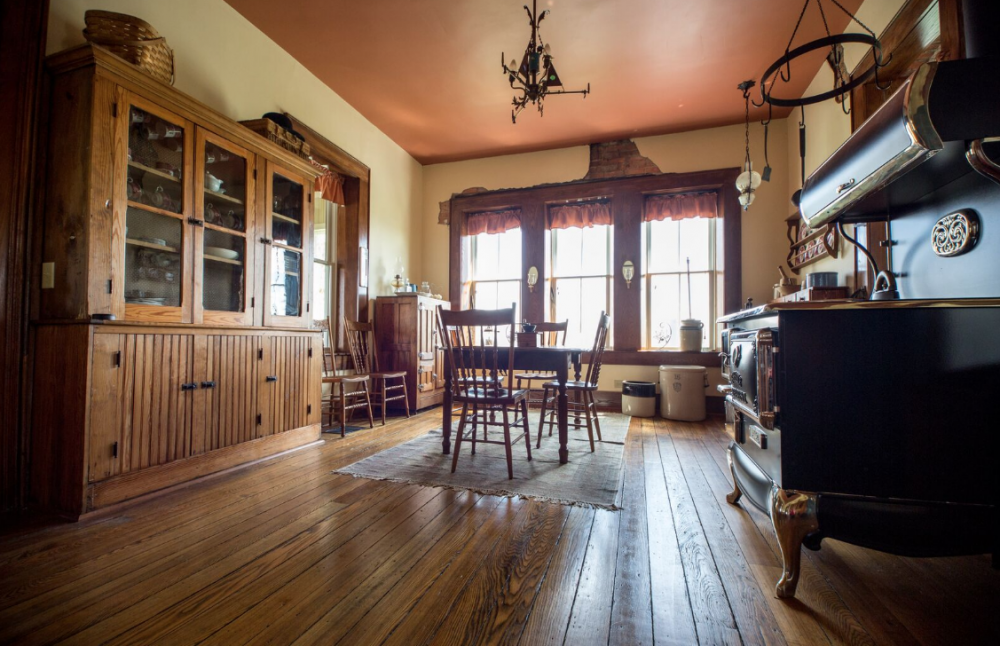 The Ottingers were our closest neighbors. Every holiday, and times in between, their yard would be filled with cars and kids: children, grandchildren, and great-grandchildren. It was awesome to see. When Shirley, and then Bill, passed away, their family approached us to see if we were interested in buying their family home. At the time I didn't think so, but I promised I would seriously consider it. I will never forget when, true to my word, I stood directly in front of that beautiful home doing just that. I suddenly realized that our farm sign stood right at my shoulder. The sun came out – shining down – it felt like fate. How could we not?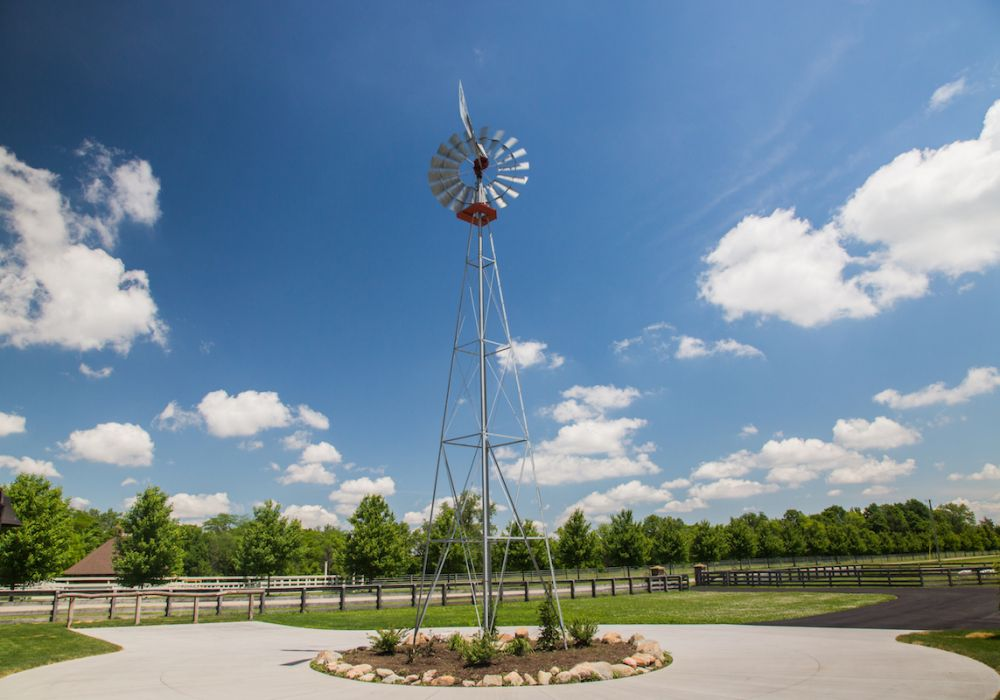 There was a lot of work to be done but it had great bones. Since then, we have put in new furnaces, air-conditioning, an overwhelming septic field (which nobody wants to hear about but cost an arm and a leg to bring it up to code), and of course, a new well to make sure everyone gets a nice, hot shower! Our goal is to give it a feeling reminiscent of the late 1800s, but provide the comforts of a modern home.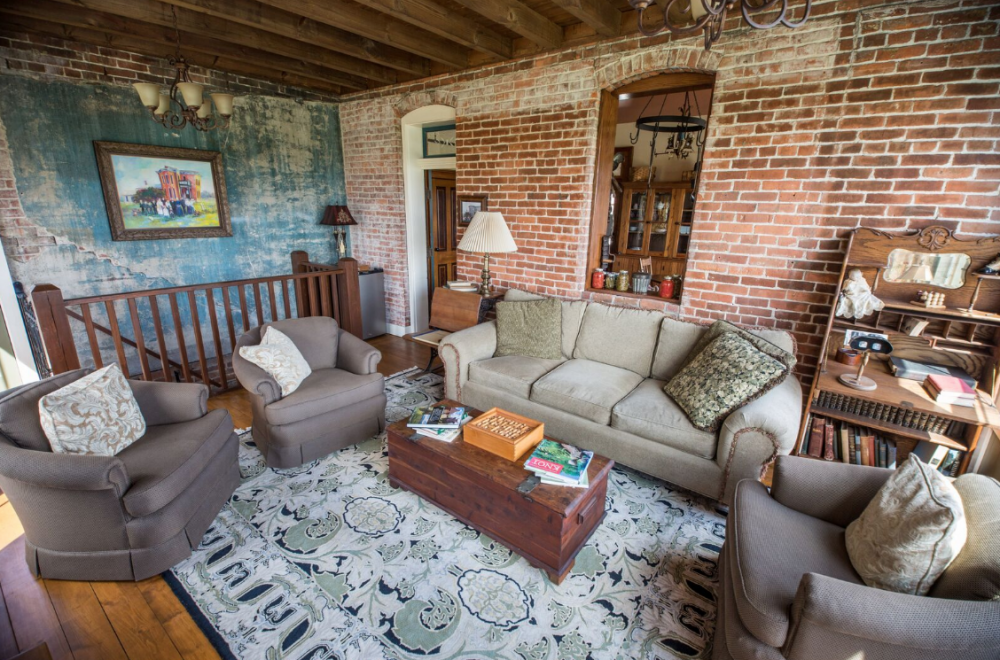 As you enter into the old farmhouse, it is a blast from the past. The entrance to the house is through the kitchen. With the wood-burning cook stove, ice box, butcher block, and dry sink, along with the refurbished wooden floor, it is warm and welcoming. So many people reminisce about their grandparents or great-grandparents as soon as they step inside – it's perfect. (By the way, hidden around the corner is a modern, up-to-date kitchen where our chefs can work their magic for our Winter Farmstead Dinners.)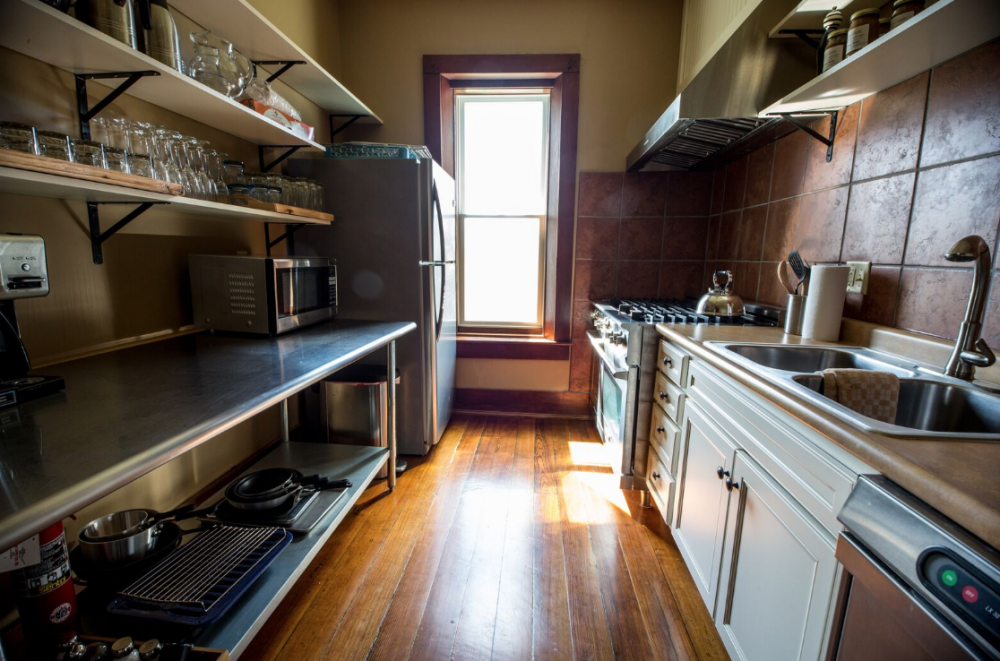 Now, here's what I find amazing – both families, all seven children, only used two of the three bedrooms upstairs. One room still had its original plaster walls. Never painted – who knew! We divided the unused room in half and now the two bedrooms upstairs have their own private baths. There is a third bedroom on the main floor with its own bath, as well. We did think of building an outhouse to keep it authentic, but we figured the guests would probably like this better.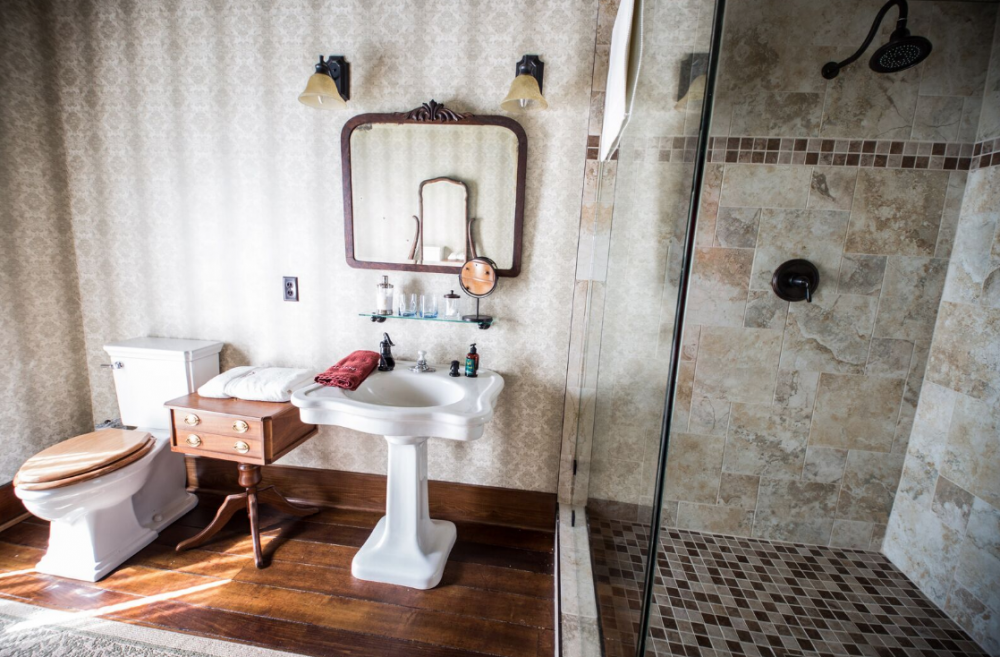 We found an original corbel in the attic space and we were able to reproduce it and restore them to the roofline. This is also the case with the front porch railing – it looks like something from the 1960s "flower power" era to me. It is actually a duplicate of the original railing, far different than anything I've ever seen. This is something several of our guests ask about, and now you know!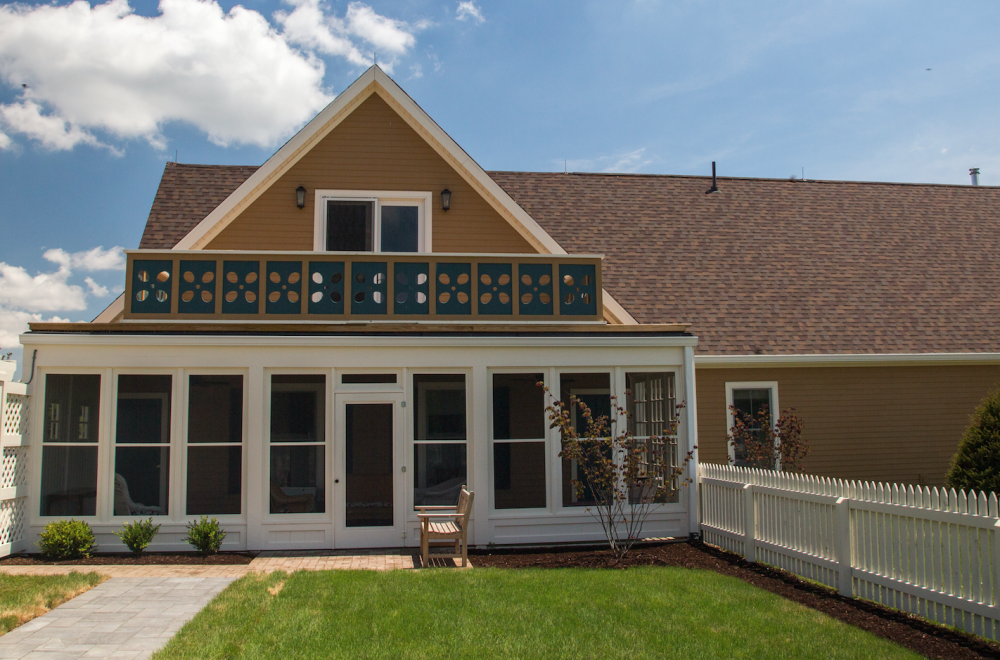 There were two pole barns when we purchased the property; one used as a garage and the other for storage. The old bank barn had long ago deteriorated. We kept the original footprint of these buildings and renovated them as well, giving them the historic look and feel of old time buildings. One is our small animal barn – you can help feed the animals when you stay at the Inn, if you want. The other we call the Carriage House where there are two private bedrooms set off a screened porch overlooking the backyard. In addition to the rooms off the porch, there is a two bedroom apartment off the back. Upstairs holds a private meeting room that also sees action for large bridal parties at the farm. (Photo below was taken by talented photographer, Kristen Mittlestedt)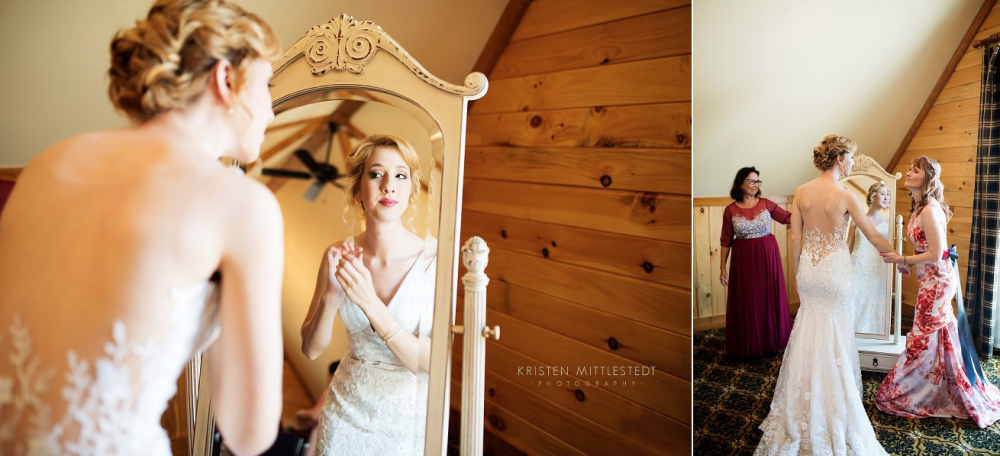 When we closed on the home (officially in Columbia City, IN), we were given a photo of Melanie and Oliver Smith. The photo shows them standing in front of the house they built with their family on their 50th wedding anniversary – wow! To add to that, I was just given a copy of the handwritten invitation that the Smiths sent for their anniversary party from 1904. This 112 year old invitation showed us that the house was originally called Home Grove and where the Farmstead is it used to be called Saturn, IN. If you reference the title of this post, we told you we're out of this world! I wonder how we can get the name to change back?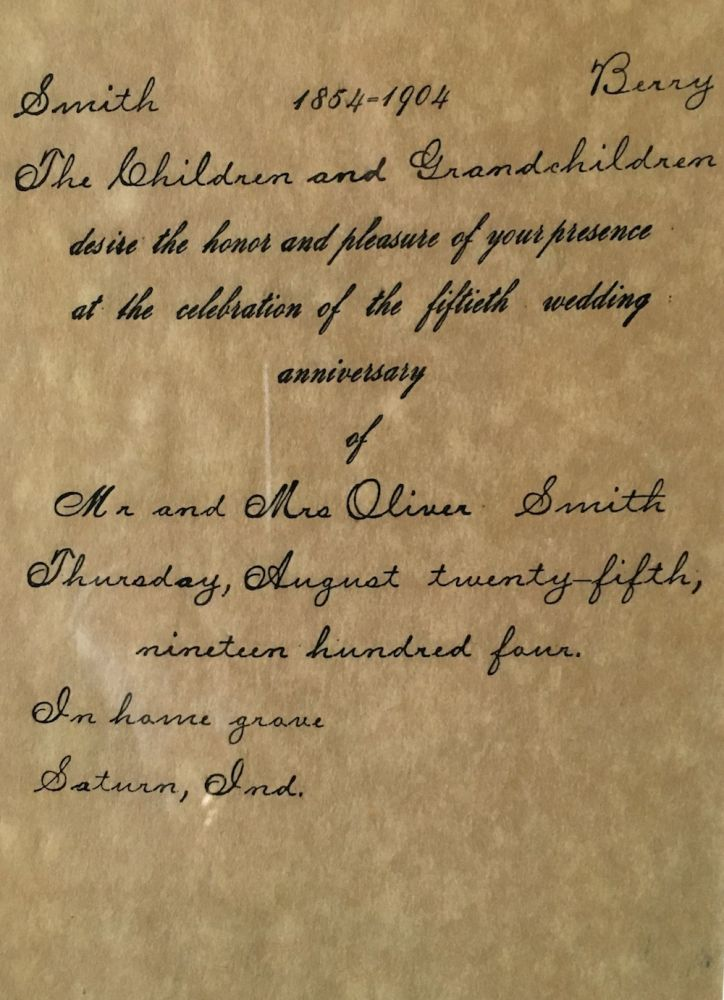 In the meantime, be sure to call and book a reservation if you'd like a chance to stay in this historic farmstead.