Culinary Diplomacy Series: VIETNAM
Date: October 26th
Time: 6:00 pm - 9:00 pm
*Reservations Required
We firmly believe, and one of our core values at Joseph Decuis, is what we term Culinary Diplomacy. We believe that food can help bring the world together and this series of cultural dinners is our way to do just that. Try something new and different; meet people from other parts of the world; experience different cultures and hear about their foods and traditions.
We love Vietnamese food. Actually I was introduced to it in New Orleans of all places and then sought it out here in Fort Wayne. Everyone was talking about the Banh Mi restaurants on Fairfield and Coldwater. My staff already loved it! I heard from a mutual friend that Will, owner and chef, likes to do special dinners, featuring more more than the regular menu and getting more lavish. HOORAY! We are so excited!
The cuisine of Viet Nam involves fresh foods - well that's right up our alley. Though it shares similarities with Chinese food, it is heavily inflenced by the French and is said to be one of the healthiest cuisines in the world. WOW. The more I read about the cuisine, the more it sounds incredible.
We can't wait to see what Chef Will and Chef Marcus and our kitchen will cook up for this dinner! We are featuring this dinner at the Joseph Decuis Farm to make sure there is enough room for everyone - so bring a friend! Bring 2!
$65 per person is all inclusive and includes the opening reception, welcome drink, appetizers, family style dinner and dessert. There will be a CASH only bar for additional drinks.
By RESERVATION only. Reservations are required and a credit card to hold your reservation. Your card will not be charged until cofirmation the week of the event. For reservations please call the restaurant at: 260-672-1715.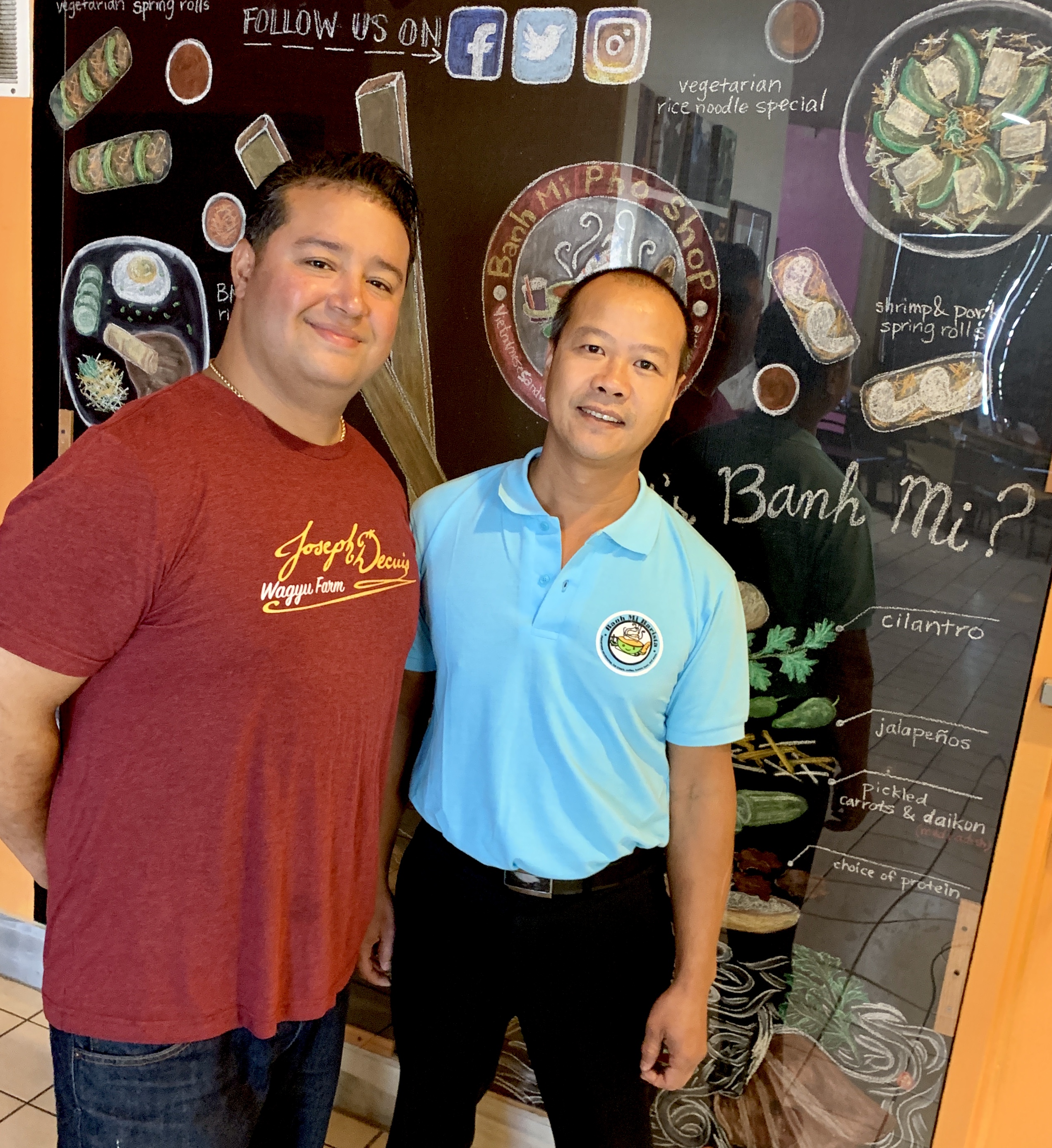 MENU - VIETNAM with BANH MI
RECEPTION
Hao Nuong Grilled Oysters, Scallion Vinaigrette, Peanuts, Vietnamese Herb
Goi Bo Wagyu Banh Phong Tom Wagyu Beef, Sweet Onion, Scallions, Min, Galanga Root, Lemongrass
Cha Goi Tom Bo Crispy Shrimp, Avocado, Yellow Onion, Clear Noodle
STARTERS
Xa Lach Tron Ta Hu Tofu, Mixed Greens, Cherry Tomato, Carrots, Pistachio, Honey Vinaigrette
Sup Mang Cua Ga Rich Chicken Stock, Lump Crab, Shiitake, Quail Eggs
FAMILY STYLE DINNER
Thit Kho Hot Vit Slow Braised Pork Belly, Duck Eggs
Bo Wagyu Nuong Xa Grilled Wagyu Beef, Lemongrass
Hu Tieu Xao Pan Fried Rice Noodles, Bell Peppers, carrots, Yellow Onion, Green Onion
Rau Cai Xao Stir Fried Broccoli, Cauliflower, Mushroom, Cabbage, Carrots, Zucchini
DESSERT
Com Ruou Rice Wine Pudding
Che Vietnam Coconut Milk, Shredded Coconut, Cantaloupe, Coco Jelly, Jack Fruit, Logan
Trai Cay Tuoi Rambutan, Logan, Dragon Fruits