We are swimming in tomatoes right now. I feel like we wait and wait for summer and ripe tomatoes and when they finally arrive we first luxuriate in them and then we are overwhelmed by the sheer numbers of them. We can some and freeze some. We make soup, sauce and salads and we indulge.
On a hot day, there is nothing like a cold tomato soup to please the palate and soothe the ardor for this outstanding jewel of summer. This gazpacho tastes so much more complex than what it takes to make it. I think it's especially good using the luscious heirloom tomatoes that Andy raises on the Joseph Decuis Farm.
We used this recipe recently for the starter at the U.S. State Department event at the farm, the Indiana Forum and we are also featuring it for our next Vineyard Lunch on September 17 which celebrates the cuisine and wines of Spain.
I hope you can join us on Saturday for a "trip" to Spain for our gazpacho but if not - give this a try yourself. You won't be disappointed. Here's the recipe:
Gazpacho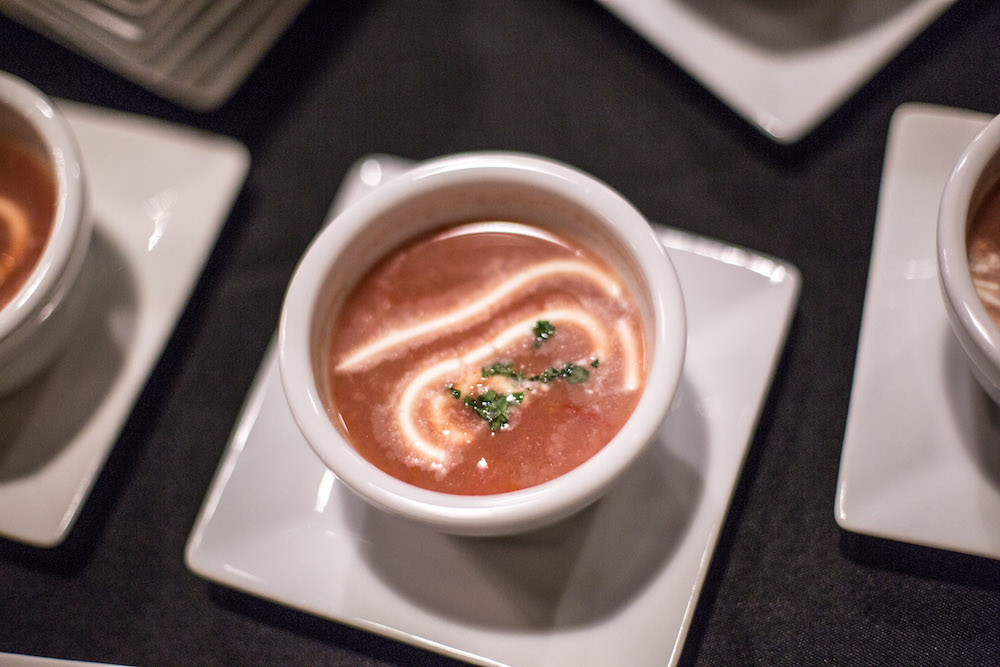 Ingredients:
1 cucumber, peeled and cut into chunks
1/2 green pepper, seeded and cut into chunks
1 small onion, cut into chunks
2 tomatoes, peeled
1/2 ripe avocado, peeled
4 cups tomato juice
3 tablespoons olive oil
2 tablespoons wine vinegar
1/2 tsp. dried oregano
salt to taste
Using the steel blade of a food processor, coarsely chop the cucumber. Transfer to a bowl.
Process the green pepper and onion until finely chopped. Add to the cucumber.
Cut the tomatoes into 1/4 inch cubes. Cut the avocado into 1/2 inch cubes.
Add the tomatoes and avocado to the cucumber along with the tomato juice, oil, vinegar, oregano, and salt.
Chill and serve cold.