In January, as 2020 turned 2021, we all passionately hoped (knowing it to be unrealistic) that Covid would miraculously disappear because, after all, it was a new year. Obviously, that did not happen. As we hit Covid's 1 year anniversary in March there is finally that feeling of hope. The number of vaccinations continue to rise. More and more of us can safely head out and enjoy being with others again, and we are SO READY to celebrate our new year … in March. Happy New Year!
And appropriately, it is a perfect time of year for a fresh start. Spring is the time of renewal and new life and as we hit this milestone it is time to celebrate! At the farm the hayfields are greening up and the chickens are producing more eggs again. We are listening to the red-wing blackbirds call and the peepers in the stream peep, all heralding the reawakening of our world. And, at the restaurant, we are seeing our customers coming back to dine – we've missed you!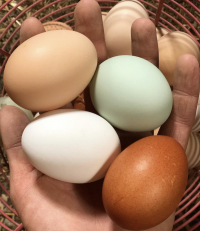 The daffodils are blooming that cheery yellow that brighten the day and by the end of the month, the wildflowers will be blooming including the bleeding heart, a beautiful flower with a name that carries a reminder of the sadness and the tragedies of the past year. We are looking ahead but with a heaviness of heart for the year past.
As April arrives we will soon see ramps and fiddleheads! And by the end of the month, the true harbinger of spring – the sainted morel. Join us as we reawaken with foods that are delicate and new. There is a special freshness to the early spring cuisine and we celebrate it, and you. Welcome back!